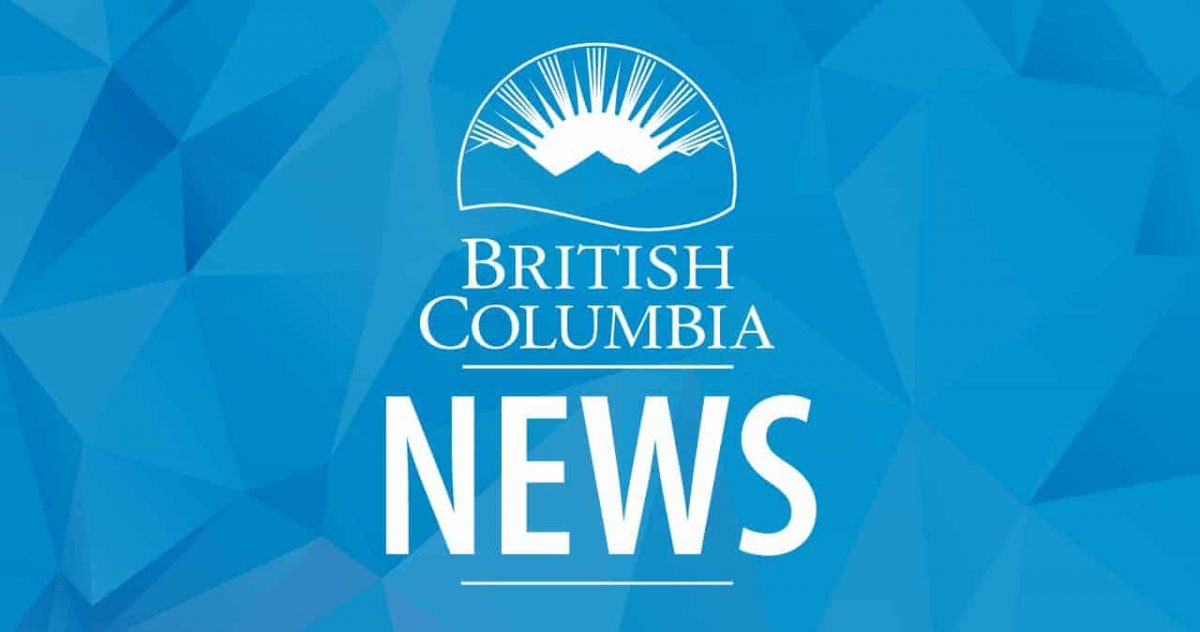 Remote First Nations communities advance clean-energy projects
Start a conversation about this post
Twelve First Nations communities throughout British Columbia will receive $7.1 million to develop alternative-energy projects and advance energy efficiency through the Province's Community Energy Diesel Reduction (CEDR) program, a CleanBC initiative.
"Our CleanBC goal is to reduce diesel consumption for power generation in remote communities by 80% by 2030," said Josie Osborne, Minister of Energy, Mines and Low Carbon Innovation. "By building partnerships and creating opportunities with Indigenous communities and businesses, we can help people living in B.C.'s hardest-to-reach communities save money, become less dependent on fossil fuels and benefit from cleaner air and water."
The energy projects range in size and scope, from $350,000 for the construction of a biomass combined heat-and-power system for the Lhoozk'uz Dene Nation (Quesnel area), to $2 million to develop and build a two-megawatt solar farm on Haida Gwaii's northern grid that will include battery storage.
The $29-million, three-year CEDR program aims to reduce remote communities' reliance on diesel fuel, and to support projects focused on energy efficiency and/or those that provide clean, reliable energy year round in areas not serviced by grid electricity. CEDR is part of the Province's Remote Community Energy Strategy.
British Columbia has 44 remote communities, most of which are governed by First Nations. Many of these communities are served by BC Hydro in non-grid integrated areas. Some First Nations own and operate their own diesel generators. In 2019, the remote communities consumed at least 19.1 million litres of diesel, emitting the equivalent of 51,784 tonnes of carbon dioxide.
The CEDR program provides funding for clean-energy initiatives to eligible remote communities that are off-grid residential regions that rely on diesel fuel for electricity generation. Remote communities can apply to three funding streams to support them as they progress through various stages of their planning and implementation of their decarbonization projects. This will help to ensure remote communities have financial supports throughout the life cycle of their energy projects, whether it be at the beginning, early, mid or late stages of planning, or implementation of their decarbonization projects.
To deliver the CEDR program, the Province has partnered with the New Relationship Trust to facilitate investments with remote communities for community energy planning, energy-efficiency projects, and renewable-energy infrastructure. In addition, Coast Funds is working with the trust to support applications from First Nations with communities in the Great Bear Rainforest and Haida Gwaii that rely on diesel to meet their electricity needs.
A second round of CEDR program funding will be announced shortly, and applicants are encouraged to connect with the New Relationship Trust and Coast Funds for more details and assistance. Coast Funds and the trust work with all eligible First Nations and remote communities to develop strong proposals that maximize access to CEDR program funding.
CleanBC is a pathway to a more prosperous, balanced and sustainable future. It supports government's commitment to climate action to meet B.C.'s emission targets and build a cleaner, stronger economy.
Quotes:
George Heyman, Minister of Environment and Climate Change Strategy –
"Making the switch from diesel fuel to renewable energy to heat your home or power your lights can be a challenge, especially if you live in a remote or isolated community. This funding will help First Nations make the shift to cleaner energy alternatives, which will reduce emissions and create economic opportunities in their communities."
Walter Schneider, chief executive officer, New Relationship Trust –
"We celebrate the continued momentum of clean-energy projects being initiated by First Nation communities. The creation of the CEDR Program and its successful launch, intake and funding to 12 First Nation communities is an exemplary model of a working partnership between the B.C. government, the New Relationship Trust and other Indigenous-led program delivery organizations."
Eddy Adra, chief executive officer, Coast Funds –
"With CEDR investments, remote communities are demonstrating leadership in sustainable energy. First Nations are moving ahead with projects that meet their communities' needs, reduce energy costs and chart a greener path for generations to come."
David Benton, clean-energy lead, Gitga'at First Nation of Hartley Bay –
"The Clean BC-CEDR program is a significant improvement in government support for remote First Nations communities. Today, it is apparent that senior governments are serious about diesel reduction for electricity generation. They have structured their programs with staff to assist in preparing application support materials, completing applications and navigating multiple funding programs across governments and departments. Increasing our capacity and the moral support is a game changer."
Learn More:
Read more about the work of the New Relationship Trust: https://www.newrelationshiptrust.ca/news/
For information about Coast Funds, visit: http://coastfunds.ca
For a list of funding opportunities for clean-energy projects led by Indigenous Nations and local governments, visit:
https://www2.gov.bc.ca/assets/gov/farming-natural-resources-and-industry/electricity-alternative-energy/community-energy-solutions/funding_opportunities_clean_community_energy_bc.pdf
To read about the Remote Community Energy Strategy, visit:
https://www2.gov.bc.ca/gov/content/industry/electricity-alternative-energy/community-energy-solutions/remote-community-energy-strategy-rces
Find out more about CleanBC: https://cleanbc.gov.bc.ca/
Two backgrounders follow.