Why Naloxone Training Matters: A Student's Perspective
Start a conversation about this post
The opioid crisis in British Columbia has been growing since 2012, with more toxic and unregulated drugs entering communities across the province. According to recent data from the BC Coroners Service, more than 1,600 people died from overdoses in BC in the first nine months of 2022, which is the largest amount recorded in the province within that time frame. 
In response to the opioid crisis in 2017, the TRU Wellness Centre implemented TRU's Take Home Naloxone program, which offers free, drop-in naloxone training for students, staff, and faculty. Naloxone is a lifesaving antidote that can reverse the effects of an opioid overdose. Some examples of opioids include heroin, morphine, fentanyl, T3, and methadone.
As part of her TRU Student Wellness Ambassador training, psychology major Ghritaachi Mehta is adept in naloxone administration and instruction. She also utilizes these skills as a Tenant Support Worker with ASK Wellness. While she's practiced naloxone administration frequently, Mehta's education was tested during a recent ASK Wellness shift when she received a report of an overdose in downtown Kamloops.
"Somebody buzzed the intercom saying there was an overdose happening outside about a block away. We get a lot of call-ins like this and most times they've been false alarms. Regardless, we always respond."
Mehta and her co-worker grabbed their naloxone kits from the front lobby of ASK Wellness and rushed to the scene. Upon arrival, they immediately recognized signs of an active overdose. "The person was not responding. We witnessed all the basic symptoms you learn about in your training," Mehta reflects.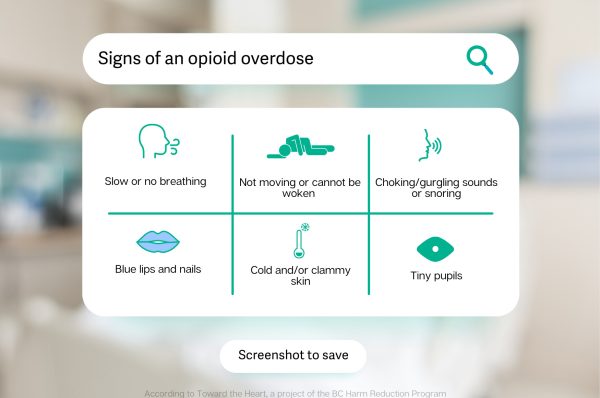 In alignment with her training, Mehta introduced herself and explained that she was about to administer naloxone. 
"My colleague called 911 while I was talking to the person and getting the kit ready. I was not hesitating and immediately started going through the motions of putting my gloves on, getting the syringe and ampoule ready…it was a lot of things going on at once." 
Although she was performing a lot of physical tasks, Mehta's mind focused on the singular goal of helping. She blocked out all her thoughts, emotions, and biases. "It's a time-sensitive situation… I just knew I needed to save this person's life."
When administering naloxone, an individual must contend with different components:
      Call 911
      Prep naloxone
      Keep talking to the person experiencing an overdose 
      Check if they're breathing 
      Deliver the naloxone 
      Give them breaths
      Continuously talk with the 911 operator and provide updates.
Mehta stresses that no matter how much training you have, you can never be fully prepared for each unique situation. "When you're learning, everything's calm and smooth. Your ampoules are easy to break, and you can open your syringes just fine. But in a real-life scenario, things are more complicated. When I first put gloves on, my hands shook, making it harder to open the syringe. Then, when I tried to break the ampoule, it was harder to break than the ones I practiced on. Also, in training, you can put your naloxone ampoule on a flat surface, but you can't always do that in an emergency."
She administered the first shot, but because the person was face down, she struggled to turn them over to administer mouth-to-mouth. "I gave them sternum rubs to ensure they were responding to it. Even though their face was bluish purple, I could hear these gurgling sounds and very harsh, rough breathing, which was a sign there was some amount of air and oxygen going on in their system," she adds.
After Mehta administered a second dose of naloxone,  the first responders arrived shortly. "I felt immediately relieved," she remembered, "the paramedics took over as soon as they arrived and knew exactly how to keep the person overdosing conscious and responsive."
Beckie Grobb, Sessional Wellness Coordinator, said, "I was so impressed with how Ghritaachi took charge and managed the situation, despite any feelings of stress or fear. She never hesitated to step in and put her naloxone training to use. She saved a life. And now she's giving back by sharing her story and encouraging other people to get naloxone training. She's a role model."
Through the experience, Mehta learned how to respond in a life-threatening situation and highly recommends that everyone get naloxone training, especially now that many drugs are mixed with other substances.
"You never know when you might have to face an overdose. [Naloxone training] is a good way to de-stigmatize the idea around providing support for people using substances. Resources should be available to everyone, especially those struggling with substance abuse. This experience was intimidating but it's rewarding to know you did something to help save someone's life".
The Wellness Centre is located in Old Main 1479. Drop by anytime the centre is open to receive training and a take-home naloxone kit. Follow the team on Instagram for announcements, information and events.
Sign up for BC's Toxic Drug Alerts System. To receive alerts, text JOIN to ALERTS (253787)
If you or someone you know is struggling with substance use and addiction, reach out for help on or off campus.  
Campus Resources:
Old Main 1631
250-828-5023
TRU Counselling – Williams Lake Campus
250-392-8000
Old Main 1479
250-828-5010
Community Resources:
Kamloops Mental Health and Substance Use
235 Lansdowne St. (lower level of Lansdowne Centre), Kamloops BC
250-377-6500
After hours: 250-377-0088
433 Tranquille Rd, Kamloops BC
250-299-2262
Williams Lake Mental Health and Substance Use
487 Borland Street, Williams Lake BC
250-392-1484